Small businesses are an integral part of any local community and those that give back to their community are considered as local heroes to many.
One Warrington family who is very grateful to local company Bumblebee Plumbing and Heating Ltd are the Olliers from Culcheth. Their old boiler had been malfunctioning for two years, during which time three separate heating and plumbing companies had failed to find the fault and mend it, leaving them with intermittent heating and hot water.
John was diagnosed with Leukaemia in November 2018 and has undergone extensive chemotherapy in Whiston Hospital during the past four months. "It was during this time,' says Anne, his wife, "that our boiler got worse, switching itself off several times a day. This wasn't good for John when he was at home between treatments, as he feels the cold and the house needs to be kept warm."
Ross Coen, from local Warrington Company Bumblebee Plumbing and Heating Ltd heard about John and Anne's plight, and offered to help. Thanks to the generosity of Ross and his colleagues at Intergas Boilers, the family have now had a new boiler installed for free, and now have a warm home with a continuous supply of hot water again. The boiler was installed in one day thanks to Steve, the fitter, who displayed great knowledge, efficiency and professionalism. The hot water supply is now constant, and an up to date thermostat means that the Olliers can easily control the heat in every room.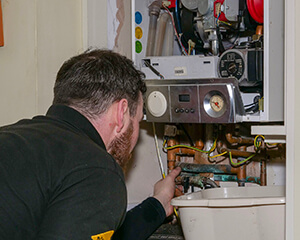 Jamie Penny from Intergas Boliers took the trouble to visit while the boiler was being fitted. "We at Intergas want to support local installers who are well involved in supporting their local community," he commented to Anne. "I hope the boiler delivers you plenty of warmth and hot water and is a small burden off your mind. I wish you and John all the best in the near future."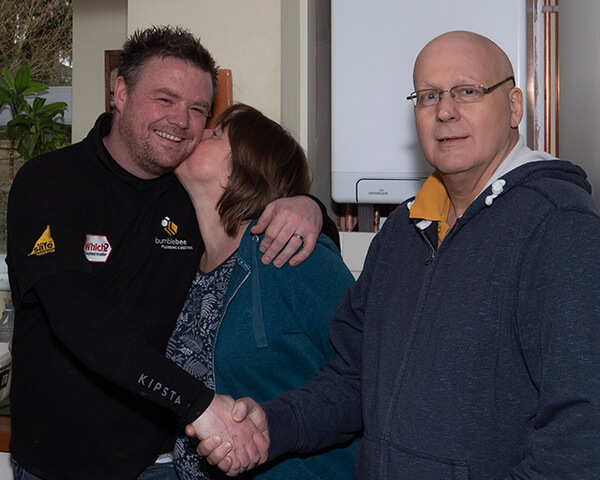 Anne and John are thrilled with their new boiler. "This has taken away some of the stress and worry from our situation and has already made such a difference to us," says John. "It will be more efficient than our old one, not only have we saved money on the installation but it will save us money on our gas bills, and will reduce the impact of global warming – a win-win situation!"
Ross Coen, owner of Bumblebee Plumbing and Heating Ltd commented, "We're so proud to be able to support a family within our local community. High efficiency is the top of most people's list when choosing a boiler, and this Intergas combi boiler will typically reduce emissions by up to 20%, also giving an exceptional flow rates. There are only four moving parts in this boiler, twelve in total, so there is very little to go wrong in comparison to the family's previous boiler."
"We're proud of our achievements," continues Ross, "and proud of our high quality service and commitment to our customers. We're so pleased to be able to help people within our local community." It's no surprise that the company won Which Trusted Trader of the month (august 2018), and also the winner of the 'Boiler and Heating Installer and Contractors' category in the Northwest Energy Efficiency Regional award in 2018.
John now has to have more serious treatment in the form of a bone marrow transplant, which, in the words of his doctor, is 'big treatment' and will take up to two years for him to fully recover.
Without a bone marrow transplant the disease will prove fatal for John. He's on the bone marrow recipient register, but it may take time to find a good match for him. Time he doesn't have.
In the meantime, there is a drug that may help, but this isn't available on the NHS as John has rare form of leukaemia. One dose, lasting two months, costs around £11,000, and he may need several doses. It's been shown that it could help to put him in a better position before his treatment, as it will curb the development of more mutating cells which could give him more time for a suitable donor to be found. This drug has also been shown to improve prognosis for recovery after treatment.
"As a family, we can't raise this amount on our own," says Anne, "So we're looking for individuals and businesses to help save John's life." To donate, please go to https://www.justgiving.com/crowdfunding/john-ollier
or scan this QR code to take you straight to the Just Giving page: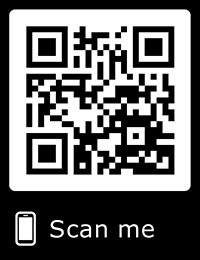 You can also help by registering to be a bone marrow donor.
75% of patients won't find a matching donor in their families. More bone marrow donors are required, not just for John, but for the 2000+ people who are in need of bone marrow or stem cells in the UK every year. Getting on the register is simple. If you're aged between 17 and 55, just register at www.dkms.org.uk and request a cheek swab. This will be sent in the post, and you can do it in seconds in the comfort of your own home. It's a much simpler process to donate than it used to be, and donors are usually back to work the next day.