Why did we chose to become a which? Trusted traders?
In this day and age their are very few brands with incredibly high trust scores with customers. We feel the which? Brand is indisputably the most trusted brand in the uk at present, so becoming a which? Trusted trader we too can emulate that consumer trust through association.
Is it easy to become a which? Trusted trader?
In short no. There are a series of internal and external verifications that you must go through along with a third party verification interview, however we felt the process helped us pick up on all the administrative hiccups that would have otherwise gone unnoticed if it were not for the verification process.
This did two things for us, gave us help in the areas we struggled and also gave us faith in the process of becoming a which? Trusted trader. We can now recommend any which? Trader knowing they too would have gone through the same process meaning all of their insurances/ accreditations etc will be present and up to date.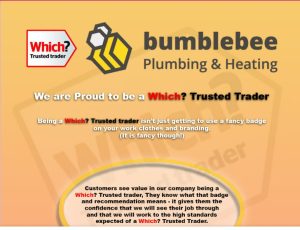 Why should a customer always choose a which? Trusted trader.
We have already touched on the assurance of knowing they are insured etc, but for us the over riding reason a customer should choose a which? Trader is the code of conduct agreement.
In short which? Will work on behalf any customer to reach a solution should there be any issues that arise if work carried out by one of their recommended tradespeople. This gives the customer that safety net of knowing they will not be on their own should any issues not be resolved. Which? Will involve trading standards and the ombudsman should they need to on behalf of the customer.
Obviously if everyone does their work properly and sorts out any issues that may arise with work being carried out there should be no need to involve them, however it's good to know they are there if required.
If you are a tradesperson and would like more information on getting involved…
Please call the office 01925713293 or email ross@bumblebeeheating.co.uk and we will introduce you to our account manager.
If you are a customer looking for a fully accredited which? Trusted trader….
Please also call the office 01925713293 or email us hello@bumblebeeheating.co.uk